Regular price
$195.00 AUD
Regular price
Sale price
$195.00 AUD
Unit price
per
Deal Price
Sold out
Lachlan Single Malt Whisky Cask Strength 66.8% - First Edition - SOLD OUT

Herein lies our very first Whisky, named in honour of our First Born - Lachlan. There were a number of parallels in bringing to life our first whisky and bringing little Lachlan into the world. You make significant investments; encounter plenty of nervous energy, face some unexpected challenges all mixed with a good dash of luck along the way. Its taken an enormous amount of love, passion and dedication to creating our first whisky, from the grain bill and mash, through distillation, maturation and barrelling. Not so much blood, but plenty of sweat and even a few tears. But now it's time to enjoy this little bundle of joy.
Barley, Wheat and Rye malts have delivered a dry, crisp whisky, combined with beautiful nuances from its 100 litre ex-Port cask, this is a whisky to sip, savour and reflect good times & great company.
Please enjoy our first whisky.
Slainte. Here's tae ye, Lachlan.
Lachlan Single Malt Whisky Cask Strength First Edition is a limited edition of just 99 bottles, each hand numbered, dated and signed by the distiller & all drawn from a single cask.
Serving Suggestions
Serve on the rocks, or a dash of water to taste, as you would with your favourite whisky.

Enjoy with good company - or maybe keep it to yourself!

500ml 66.8% ABV. Product of Australia.
Looking for something a little lighter? In the coming weeks we'll be launching our Lachlan Single Malt Whisky 50% - drawn from the same cask as the cask strength but broken down with local spring water to 50% ABV - it's currently flocking out so will be just a few weeks (95 Bottles will be available)
Share
View full details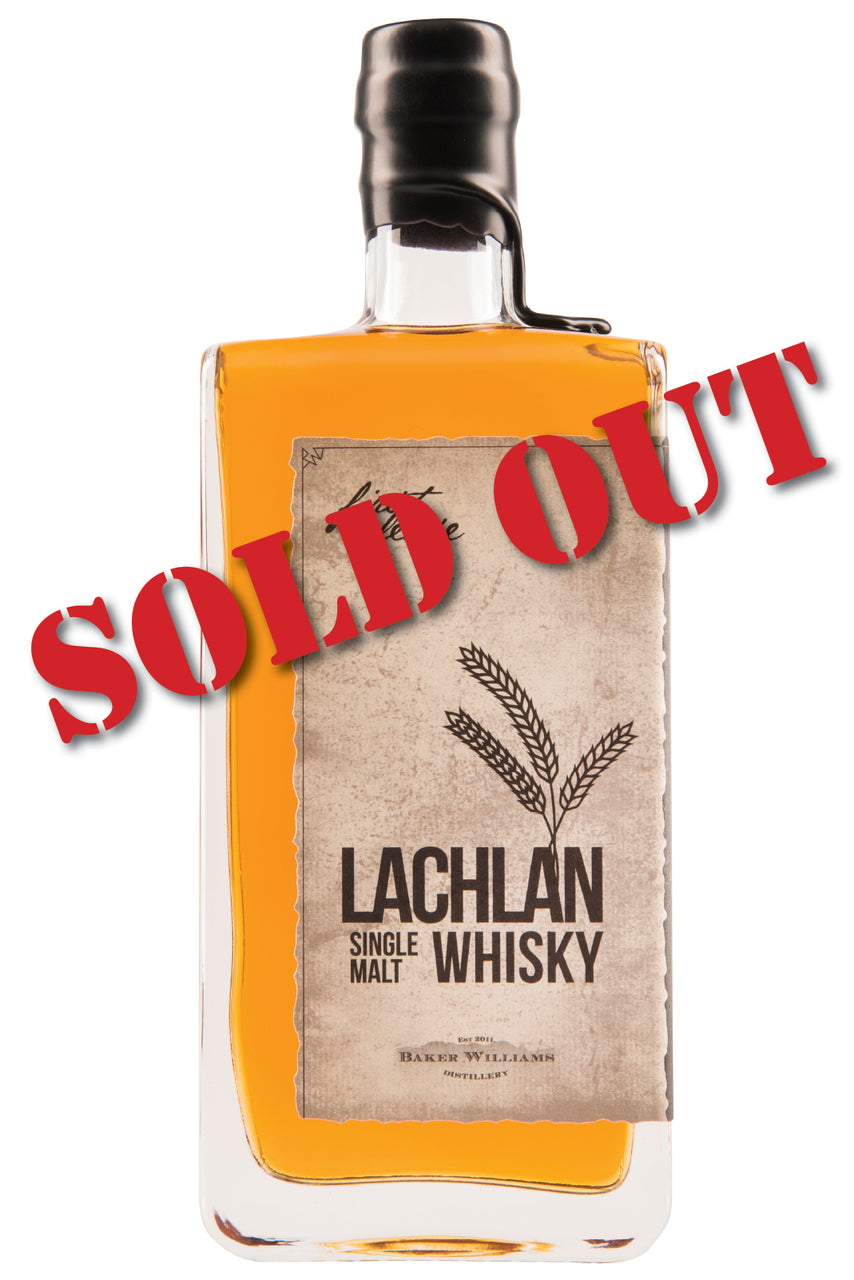 FAQ about Baker Williams' Products
What is this products's shelf life?

We recommend that our drinks are opened within 12 months of purchase, and consumed approximately 6 months after opening.
How do I best store your products?

All our products can be stored safely at room temperature. Best out of direct sunlight and large temperature changes.
I can see bits floating in it. Is that normal?

Yep! Absolutely. We don't really filter things 'round here unless it is absolutely necessary. Settling of particles on the bottom of the bottle is really normal too. That said, If you are ever worried about the quality of things you buy from us, call straight away and let us know.