Regular price
$195.00 AUD
Regular price
Sale price
$195.00 AUD
Unit price
per
Deal Price
Sold out
Lachlan III Single Barrel Whisky Cask Strength 68.3% - Our Third Edition of Whisky
136 Bottles Only at Cask Strength
RRP $195
The Baker Williams Distillery team are proud to release Lachlan III, just our 3rd barrel of whisky, aged in small format recoopered 100L ex-bourbon cask.
A full 3 years old, this malt driven whisky is a touch softer than previous releases, presumably a testament to the additional seasons that have crafted the spirit & directed it's interaction in oak. Over this barrel's journey to the whisky before you, many a summers day has seen temperatures well into the 40°Cs, & substantial contrast of winter mornings well below zero; forcing spirit into the oak fibres on the heat & squeezing it back to the barrel in the subzero cold.
Burnished copper, auburn to chestnut in colour, substantial spice dominates the nose with elements of pepper & allspice, balanced with some sweet mandarin & cumquat citrus & apricot fruitiness alongside some caramel, toffee & cereal notes.
Big Malt, oak & a touch of liquorice with substantial alcohol on the cask strength tastings lend itself to a dash of water.
Every bottle has been bottled by hand, individually numbered, dated and signed by the distiller & all drawn from a single cask.
Serving Suggestions
• Serve on the rocks, or a dash of water to taste, as you would with your favourite whisky.
• Enjoy with good company - or maybe keep it to yourself!
500ml 68.3% ABV. Product of Australia.
Share
View full details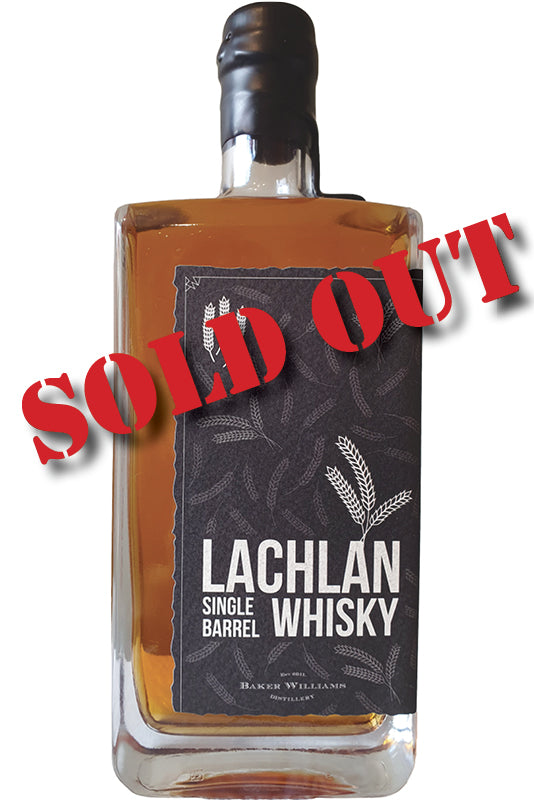 FAQ about Baker Williams' Products
What is this products's shelf life?

We recommend that our drinks are opened within 12 months of purchase, and consumed approximately 6 months after opening.
How do I best store your products?

All our products can be stored safely at room temperature. Best out of direct sunlight and large temperature changes.
I can see bits floating in it. Is that normal?

Yep! Absolutely. We don't really filter things 'round here unless it is absolutely necessary. Settling of particles on the bottom of the bottle is really normal too. That said, If you are ever worried about the quality of things you buy from us, call straight away and let us know.