Regular price
$122.00 AUD
Regular price
$138.00 AUD
Sale price
$122.00 AUD
Unit price
per
Deal Price
Sold out
2 Pack Containing:
1 Bottle Gin XLCR +
1 Bottle Navy Strength Gin X-XLCR

Gin X-XLCR is an intense expression of our medal winning Gin XLCR in a 'Navy Strength' edition. Bold and vibrant, this gin carries citrus at its core with local cumquat and orange, with well balanced juniper and coriander spice to round out the palette this is the ideal refreshment for sipping on a hot summer afternoon.
Non-chill filtered?
This gin will unapologetically show 'louche' or haze with further dilution or chilling BUT that just means we kept all those delicious flavours in the bottle.

Serving Suggestions
On the rocks with a twist of orange.

Fill a highball glass with ice, add a generous measure of Gin X-XLCR, top with tonic to taste.

Gin XLCR: 500ml 40% ABV. Product of Australia.
Gin X-XLCR: 500ml 57.8% ABV. Product of Australia.
Share
View full details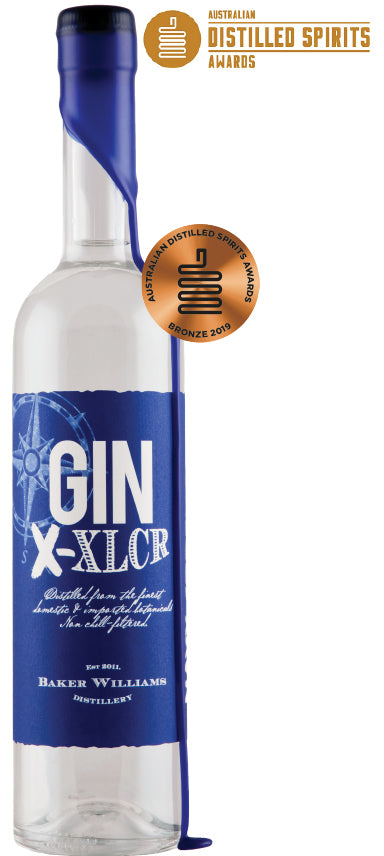 FAQ about Baker Williams' Products
What is this products's shelf life?

We recommend that our drinks are opened within 12 months of purchase, and consumed approximately 6 months after opening.
How do I best store your products?

All our products can be stored safely at room temperature. Best out of direct sunlight and large temperature changes.
I can see bits floating in it. Is that normal?

Yep! Absolutely. We don't really filter things 'round here unless it is absolutely necessary. Settling of particles on the bottom of the bottle is really normal too. That said, If you are ever worried about the quality of things you buy from us, call straight away and let us know.